I've been tagged by the very talented Hannah Cumming to take part in 'The Next Big Thing' - blog tour of children's books,

which began in Australia. You can see Hannah's post

here
Soooo...in line with all the other authors I will be
answering
a few questions about my latest book 'NEVER EVER'.
Where did the idea for this book come from?
The idea for the book came partially as a memory of being a child who loved exciting adventure stories, I was sometimes disappointed that real life in a small town in Hampshire didn't quite match my imaginary expectations of what might be around the next corner...apart from chalk-pits
! One of the great things about creating books, is being able to bring your imagination to life.
What genre does your book fall under?
A Picture Book with a message.
Which actors would star in a move rendition of your book?
I think it would just have to be Queenie (Miranda Richardson) in character from Blackadder. Even just her voice as a voice-over in an animation or puppet theatre version would be perfect.
What is the one-sentence synopsis of your book?
There are times in life when it is easy to think nothing exciting ever happens to us, but if we just open our eyes we will see all the

wondrous

things all around us.
How long did it take you to write the first draft of the manuscript?
I had the idea for the book for a while and then decided to pursue it as my final MA Illustration project, whilst studying at Cambridge School of Art. I spent quite a bit of time sketching the movements of gorillas, lions etc. Then locked myself in my studio for the whole of Christmas and New Year until I had produced a colour dummy book that I was happy with, which I submitted as part of my final project. After the MA show Childs Play signed the book up and I worked with them for the next few months to produce the final, finished version.
What other books would you compare this story to within your own genre?
That's a tricky question, as it would be comparing to one of the 'great'

children's

books, but I think perhaps Pat Hutchins wonderful 'Rosie's Walk' as it also displays a

journey

where the main character is

oblivious to the antics of the fox going on behind her.
Who or what inspired you to write this book?
Me as a child, wishing life could be as exciting as books such as 'James and the Giant Peach' and 'Charlie and the Chocolate Factory' and also a wish that animal

characters

really could come to life, as in the film 'Bedknobs and Broomsticks'!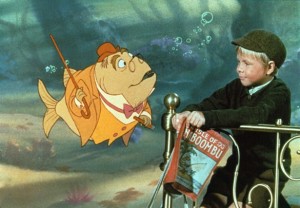 What else about this book might pique the reader's interest?
It has a very 'dark' page and an enormous pull-out page. I also have a

challenge

...see how quickly you can read Never, Ever, Ever, Evereverevereverever
everevereverever
everevereverever...when you read the book out loud!
And what is next after The Next Big Thing?
I am working on a number of new book ideas, all hush, hush at the mo, but watch this space!
The next Author to be tagged in 'The Next Big Thing' post is the super talented Gemma Merino who is going to talk about her wonderful debut picture book, so keep a look out for Gemma's post here gemmamerino.blogspot.co.uk